Heart Walk
SAVE THE DATE!
Heart Walk 2017 will be Saturday, May 20, 2017 at Wayne State University!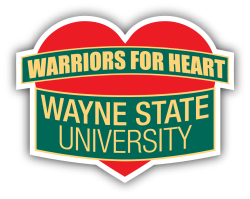 Heart Walk 2016 Stats
| | |
| --- | --- |
| Wayne State University |             Heart Walk               |
| 41 Teams, 446 walkers | 12,000+ walkers |
| $25,800 raised! | $1 million+ raised! |
---
A Message from Vice President for Research, Stephen M. Lanier, Chair
As part of our Wayne Cares Initiative, I am delighted to announce that the American Heart Association (AHA) Detroit Heart Walk will take place on Wayne State University's campus for the next three years!
I am honored to serve as the 2017 Co-Chair of the Detroit Heart Walk, which will take place on Saturday, May 20, 2017.  President Wilson will lead as Co-Chair for the 2018 Heart Walk. This initiative is of particular significance to me for a variety of reasons.
I would like to invite the entire Wayne State family to join more than one million people in over 300 cities across the United States to take a stand against heart disease and help save lives by participating in this year's Heart Walk. We are looking for coaches to create teams of walkers, with a goal of 65 team coaches from staff, faculty, and students, and 500 walkers representing Wayne State.
The Heart Walk is a celebration of the American Heart Associations' new Healthy for Good Movement (https://secure2.convio.net/amha/site/SPageNavigator/healthy_for_good_home.html). This movement is designed to drive a mission around personalized health and awareness to live healthier lives, inspire a lasting change, and unify all of us around the simple idea that making a small change today can create a difference for generations to come. Wayne State University plays a critical role in this Healthy for Good Detroit movement every day through our important research, caring of patients and training of our students.
As an urban serving university and as part of our overall mission, I believe that this engagement is a reflection of our commitment to the broad communities that we serve and the mission of the American Heart Association.
Over the next two months, we will be inviting the campus community to a number of events promoting the Healthy for Good Detroit initiative. I invite you to participate in these events and the Heart Walk to embrace the cause and create healthier lives.

WAYS YOU CAN GET INVOLVED:
---
WALK DAY INFORMATION
The Metro Detroit Heart Walk will be held from 8 a.m. – noon Saturday, May 20, at Wayne State University! PLEASE NOTE THIS IS A DIFFERENT LOCATION THAN LAST YEAR.  Runner registration begins at 7:30 a.m. and the main festival grounds open at 8 a.m. for participants to enjoy activities before the walk (which begins at 10 a.m.) including the Kids Zone, Photo booths, Mascot Race, Activities, Giveaways,  Eat Street and much more!  Please see more details below/attached and let me know if you have any additional questions. 
CLICK HERE for the most updated logistical information.
Schedule of Events
7:30 a.m. – Runner Registration & Check-In
8:00 a.m. – Main Festival Grounds open to the public and activities begin
8:45 a.m. – Runners will begin lining up at the Start Line
9:45 a.m. – Opening Ceremony and Warm Ups
10:00 am.   Walk begins following the opening ceremony
Parking
INFORMATION COMING SOON
Runners
Runners should click the REGISTER NOW button above and choose 5K Run registration option.  Cost to register for the Run before May 15th is $35 and on the day of the Run it will be $40.  More details to come.
Walk Route
INFORMATION COMING SOON
Fundraising
Fundraising is ongoing! Thanks to those who have their fundraising efforts well under-way. For those of you whom have not yet had the time to start your efforts, there is still plenty of time to do so!  Every dollar raised makes a difference and allows us to fund more potential life-saving research as of July 1st.  If you need assistance with setting up your webpage and sending emails or posting to your Facebook, please call our Detroit Customer Care team directly at 855-229-4424. We have 4 great team members that would love to assist you!!!  Remember there is still time to raise funds until June 30th! 
---
About The American Heart Association
The American Heart Association is the largest voluntary health organization working to prevent, treat and defeat heart disease, stroke and other cardiovascular diseases. With heart disease and stroke being the #1 and #4 killers of all Americans, the American Heart Association's mission is to build healthier lives free of cardiovascular diseases and stroke. The Heart Walk is the American Heart Association's premiere event for raising funds to save lives from this country's No. 1 and No. 4 killers - heart disease and stroke. Designed to promote physical activity and heart-healthy living, the Heart Walk creates an environment that's fun and rewarding for the entire family.
This year, more than 1 million walkers will participate in nearly 350 events across the country, with over 20,000 of them right here in Detroit. Your participation will help us raise even more in our fight to save lives. Walk with friends, family, coworkers or strangers you'll bond with along the way. Any way you choose to do it, your heart will thank you for it!
Donations raised help save lives through research, public health education, professional education and training, and advocacy. In fact over the last five years, more than $17 million in research grants have come back to the state of Michigan with $1,075,040 awarded to research taking place right here at Wayne State University. In summary, for every $1 dollar raised through the Heart Walk, $3 comes back to the Southeast Michigan community. Your donations make a huge impact on our community!
Questions? Contact the American Heart Association representative, Annie Hill at annie.hill@heart.org or call the Detroit Customer Care team directly at 855-229-4424.